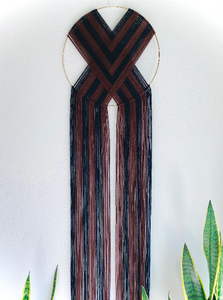 ITEM TITLE: "Power" macramé heart weave wall hanging 🤎🖤🤎🖤🤎 (1 Available)

MATERIALS: acrylic yarn and metal hoop

PRICE: $30 ($10 off retail)

SHIPPING IN USA: Free Shipping!!

ABOUT/DETAILS:

12" gold-finished hoop with black and brown yarn. Approximately 42" in length. Tail is cut straight across.

Turnaround: This item is already made and READY TO SHIP! Order by 4pm Pacific for same day shipping.

#macramedecor
#heartweavecollection