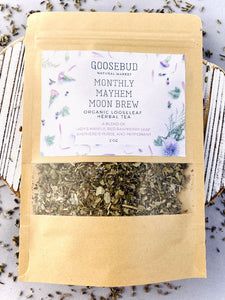 An organic soothing herbal blend designed to ease women through their natural monthly rhythm.  This blend is formulated to help ease the discomfort of symptoms during menstruation. 

Organic ingredients: Red raspberry leaf, Shepherd's Purse, Lady's Mantle, Rose Petal, Lemon Balm, and Peppermint.
Directions: Mix 1-2 TBSP of GooseBud Organic Monthly Mayhem Loose Leaf Tea for every 8oz hot water (200 degrees is ideal, cover, and steep for 5-15 minutes. Strain and enjoy! 
*NOT for use in pregnancy except under the supervision of a qualified healthcare practitioner. We recommend that you consult with a qualified healthcare practitioner before using herbal products, particularly if you are pregnant, nursing, or on any medications.*
**These statements have not been evaluated by the Food and Drug Administration and are not intended to diagnose, treat, cure or prevent any disease. If you have a reaction, discontinue use and consult your Physician. It is recommended that if you are sensitive to new products to do a patch test 24 hours prior to application**
* In no way should any information found on www.GooseBud.com or its affiliate social media pages or websites be considered as offering medical advice. Please discuss with your doctor prior to use. Herb information provided for educational purposes only and is not a substitution for advice given by your doctor. Please always consult with your healthcare provider if you have any medical conditions or take prescription medication prior to consumption. I urge consumers to please do your own research on all ingredients before buying and only do what makes you comfortable.*