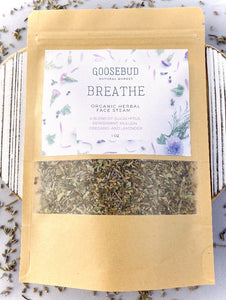 Herbal face steams are an aromatic delight with a purpose. The organic herbs that were carefully selected for this blend are formulated specifically for: respiratory wellness and refreshment. 
Relief! You deserve it! 
Suggested use: Add 1-2 tbsp of the BREATHE Organic Steam Facial Blend in a bowl of hot water *use caution*, drape a towel over your head, inhale deeply, and take a moment of calm. Invite the rising steam to lift your spirit and spoil your skin with the beneficial herbal properties. 
An refreshing steam for your lungs, sinuses, and soul!
For best results, use within within 6 months of opening the pouch.
**These statements have not been evaluated by the Food and Drug Administration and are not intended to diagnose, treat, cure or prevent any disease. If you have a reaction, discontinue use and consult your Physician. It is recommended that if you are sensitive to new products to do a patch test 24 hours prior to application**
* In no way should any information found on www.GooseBud.com or its affiliate social media pages or websites be considered as offering medical advice. Please discuss with your doctor prior to use. Herb information provided for educational purposes only and is not a substitution for advice given by your doctor. Please always consult with your healthcare provider if you have any medical conditions or take prescription medication prior to consumption. I urge consumers to please do your own research on all ingredients before buying and only do what makes you comfortable.*
Customer Reviews
04/06/2021
Carrie G.

United States
Breathed Easier
This product was great for my son's congestion. Holly made a special order for us with the lavender kept separate due to migraine triggers. We put just a pinch in and it worked great.
09/12/2020
Stephanie

United States
Life Changing!
I love the breathe steam facial especially when I'm feeling mucousy or congested at all it really helps open everything up. And it's so relaxing and calming.